Thank you for all the great feedback that we have received. We have added most of all the features that has been suggested by our customers over the last 3-4 months. And we are happy to annonce that we now have launched version 3.0 of White Label Branding for WordPress.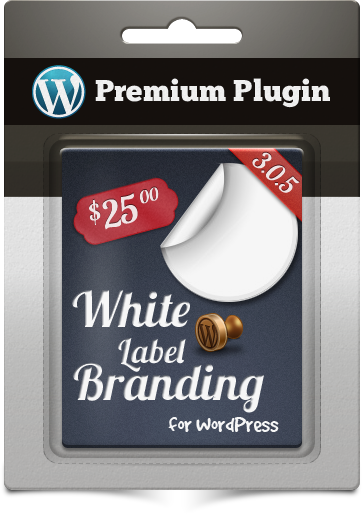 This is a list of all the new features in version 3.0.3
Version 3.0.3 rev23096 – March 21, 2012
* Bug Fixed: Pages by User Role (PUR) fix, after WP 3.1 PUR was not
  restricting Custom Dashboards correctly.
* Bug Fixed: Login form label not getting WLB setting
* Bug Fixed: Compatibility issue with some other plugins that was
  hiding the WLB Advanced Settings tab.
* Bug Fixed: When login advanced templates are empty, even if this
  feature is deactivated there is a javascript error.
* Bug Fixed: Main menu is showing orange on click (focus), applied
  same color as hover
Version 3.0.2 rev14700 – December 20, 2011
* Bug Fixed: Admin Bar checkboxes are reset when saving a different
  panel
* Bug Fixed: Custom Post Type column not showing in WordPress 3.3
* New Feature: Added option to move the logout link to the Admin Bar.
  By default this is inside the profile submenu.
Version 3.0.1 rev14037 – December 17, 2011
* Bug Fixed: Allow non WLB administrator to edit hide
  dashboard widgets
* Bug Fixed: Hide dashboard widgets are unset when saving
  another panel
* Bug Fixed: Hide Profile on Admin Bar when hiding sub-menu
* Bug Fixed: Admin Bar broken when opening the navigation tab
* New Feature: Added option to hide the Welcome Dashboard Panel
* New Feature: Added option to disable the automatic color
  scheme generation
* New Feature: Enable Admin Bar customization for WordPress 3.3
* New Feature: Added option to disable WordPress 3.3 pointers
* New Feature: Added option to replace "Howdy" username
Version 3.0.0 rev12331 – November 27, 2011
* New Feature: Save, Export and Import settings for wp-admin color
  branding
* New Feature: Save, Export and Import settings for login template
  branding
* New Feature: Save, Export and Import global settings for
  White Label Branding
* New Feature: Added optional Downloadable Content when License key
  is entered
* New Feature: Add Favicon
* New Feature: Set WordPress from name and email address
* New Feature: Hide dashboard panels created by other plugins
* New Feature: Change order of wp-admin menu
* New Feature: Login Screen CSS Settings (logo, opacity and
  background)
* New Feature: Optional Drag and Drop file upload for Login Screen,
  Login Form and Favicon
* New Feature: Customize Login Form
* New Feature: Login form support for iPad, iPhone and Smartphones
  (small template trigger)
* New Feature: Custom Icons (optional)
* New Feature: Added advanced wp-admin color branding
* New Feature: Disable wp-admin for specific User Role
* New Feature: Disable specific Screen Options (Editor or lower
  user role)
* New Feature: Save Default Screen Options layout (global)
* New Feature: Save Default Screen Options layout (per user)
* New Feature: Merged all White Label Branding related menus under
  WLB Settings
* Update: New Options Panel version 2.0