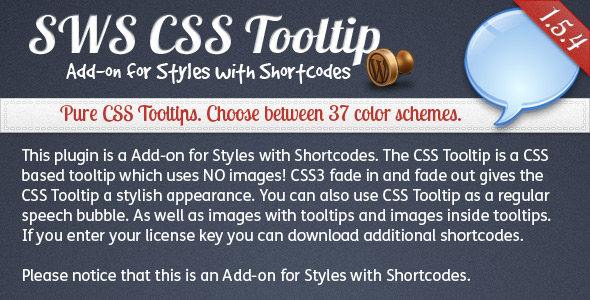 Styles with Shortcodes is a great plugin that makes life easier using WordPress whether you are a seasoned developer, designer or just a normal user!
We have created a Add-On plugin for Styles with Shortcodes, which makes it easier than ever to add beautiful looking CSS Tooltips and Speech Bubbles on your WordPress powered website. You can choose between 37 different color schemes.
Please notice that in order to use this plugin you need a valid license for Styles with Shortcodes for WordPress. The plugin adds two additional Shortcodes to the Styles with Shortcodes plugin.
You can try the shortcodes your self before you decide whether to buy it.
Simply use the following login details
Username: DemoUser
Password: TryMeNow
[eps-product id="155006"]
List of features
Tooltip & Speech Bubble (CSS3)
Tooltips – view samples
Speech Bubbles – view samples
Tooltips on Images – view samples
Images inside tooltips – view samples
3 different positioning options: Left, Center and Right
37 different color schemes
Easy adjust the width of the Tooltip or Speech Bubble
Easy change the font size
No use of images only CSS
CSS3 fade in and fade out, which gives the CSS Tooltip a smooth appearance (this works in all modern Webkit browsers like Firefox 4, Opera 11 and Safari 5)
Supports the following browsers; Internet Explorer 7+, Firefox 3+, Google Chrome 4+, Opera 9+, Safari 4+
Gracefully degrades in older browsers
Support and Updates
We support our plugins and have a professional support ticket system setup to handle and track all issues or requests from our customers. Follow us on Envato or Twitter to stay up to date with new releases and updates.
Change log
Version 1.5.4 rev23067 – March 19, 2012
* Bug Fixed: Updated shortcode "Tooltip with Image"
  (Timthumb.php changed to Thumbnail.php). Caused the shortcode to fail displaying image.
When you have installed the update go to Shortcodes > Options > Bundles > Restore Bundle >
CSS Tooltip
and then "Click to restore bundle".
This will restore the CSS Tooltip bundle into Styles with Shortcodes (this way you will get the new updates).
Version 1.5.3 rev15622 – January 5, 2011
* Bug Fixed: Font size broken in tooltip shortcode.
Version 1.5.2 rev5435 – June 3, 2011
* New Feature: Added two new colors 'Black' and  'Bright Green'
Version 1.5.1 rev4664 – May 21, 2011
* New Feature: Added 5 new color schemes
* New Feature: Added support for -webkit-linear-gradient
* Update: Tooltip is output outside the content
Version 1.5.0 rev4311 – May 6, 2011
* New Feature: Added fadein to new tooltip
* New jQuery tooltip algorithm
* New Feature: Option to set a word count limit
  (amount of times a tooltip appears on the same page)
* Bug Fixed: Tooltip not staying open when cursor over tooltip
  placed inside EAP (Easy Pagination)
* Bug Fixed: Removed flickering when cursor over trigger close
  to where the tooltip shows
* Bug Fixed: Safari not showing tooltip inside shortcode
Version 1.1.2 rev2834
* Bug Fixed: tooltip not showing in Firefox when placing
  the tooltip inside an SWS column.
* Bug Fixed: fade effect fixed
1.1.1 rev2299 – March 14, 2011
* Fixed wp-admin menu
Version 1.1.0 – February 3, 2011
* Added support for Images with tooltips
* Added support for Images inside tooltips
Version 1.0.2 – January 25, 2011
* Changed default URL (link) value to javascript:void(0);
Version 1.0.1 – January 25, 2011
* Added support for entering a URL (link)
Version 1.0.0 – January 24, 2011
* First release
Screenshots