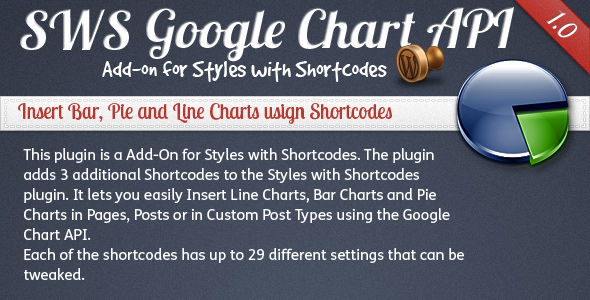 Tweet Styles with Shortcodes is a great plugin that makes life easier using WordPress whether you are a seasoned developer, designer or just a normal user! It comes bundled with more than 90 Shortcodes and we have created a number of add-ons, which makes it easy to add even more exciting feature.
We have created another great little Add-On named SWS Google Chart API. The plugin adds 3 additional Shortcodes to the Styles with Shortcodes plugin, which allows you to easily insert Pie, Bar or Line charts.
You can also try the shortcodes your self before you decide whether to buy the Styles with Shortcodes plugin that is required to use this add-on.
Simply use the following login details
Username: DemoUser
Password: TryMeNow
List of features
Google Chart API
5 types of Bar Charts: Horizontal bar chart with stacked bars, Vertical bar chart with stacked bars, Vertical bar chart in which bars are stacked in front of one another, rather than atop one another, Horizontal bar charts with grouped bars, Vertical bar chart with grouped bars.
3 types of Line Charts: Line chart where data points are spaced evenly along the x-axis. Axis lines are shown by default, Similar to the previous, but by default not display axis lines, Line chart which lets you specify both x- and y-coordinates for each point, rather just the y-values.
2 types of Pie Charts: Two dimensional pie chart, Three dimensional pie chart.
Supports the following browsers; Internet Explorer 7+, Firefox 3+, Google Chrome 4+, Safari 4+, Opera 10+
Support and Updates
We support our plugins and have a professional support ticket system setup to handle and track all issues or requests from our customers. Follow us on Envato or Twitter to stay up to date with new releases and updates.
Change log
Version 1.0.0 rev4685 – May 23, 2011
* First release
Screenshots