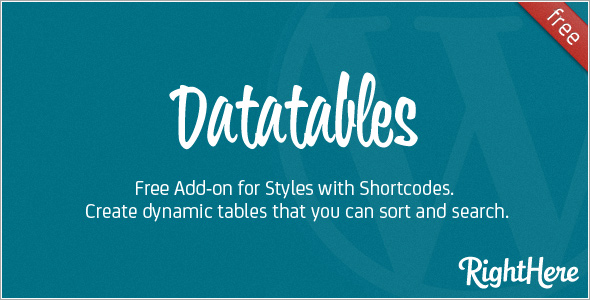 Styles with Shortcodes is a great plugin that makes life easier using WordPress whether you are a seasoned developer, designer or just a normal user!
We have created a Add-On plugin for Styles with Shortcodes, which makes it easier than ever to create dynamic tables in WordPress. It will add the required javascript libraries and styles needed for the datatables Shortcodes. DataTables is a plug-in for the jQuery Javascript library. It is a highly flexible tool, based upon the foundations of progressive enhancement, which will add advanced interaction controls to any HTML table.
Please notice that in order to use this plugin you need a valid license for Styles with Shortcodes for WordPress. The plugin adds two additional Shortcodes to the Styles with Shortcodes plugin.
You can also try the shortcodes your self before you decide whether to buy the Styles with Shortcodes plugin that is required to use this add-on.
Simply use the following login details
Username: DemoUser
Password: TryMeNow
List of features
SWS Datatables
Variable length pagination
On-the-fly filtering
Single-column filtering
Multi-column sorting with data type detection
Displays data from almost any data source
Sorting column(s) highlighting
Set default sort direction
Support and Updates
We support our plugins and have a professional support ticket system setup to handle and track all issues or requests from our customers. Follow us on Envato or Twitter to stay up to date with new releases and updates.
Changelog
Version 1.0.1 rev4926 – May 19, 2011
* New Feature: Added option to specify sort direction of datatables
* Bug Fixed: controls were randomly duplicated
Version 1.0.0 – January 22, 2011
* First release