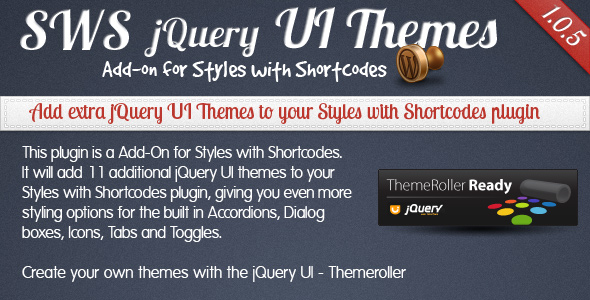 Tweet  We have created a Add-On plugin for Styles with Shortcodes, which makes it easier than ever to add additional styling to your Shortcodes. It will add 11 additional jQuery UI themes to your SWS plugin giving you even more styling options for the built in Accordions, Dialog boxes, Icons, Tabs and Toggles.
Please notice that in order to get the full benefits of this free Add-on you need a valid license for Styles with Shortcodes for WordPress.
You can also try the shortcodes your self before you decide whether to buy the Styles with Shortcodes plugin that is required to use this add-on.
Simply use the following login details
Username: DemoUser
Password: TryMeNow
List of features
jQuery UI Themes (CSS3)
Adds 11 additional jQuery UI Themes to your Styles with Shortcodes plugin: Black-Tie, Cupertino, Dark-hive, Eggplant, Flick, Pepper-grinder, Redmond, Sunny, UI-darkness, UI-lightness, WordPress
You can add your own themes
Supports the following browsers; Internet Explorer 7+, Firefox 3+, Google Chrome 4+, Opera 9+, Safari 4+
Support and Updates
We support our plugins and have a professional support ticket system setup to handle and track all issues or requests from our customers. Follow us on Envato or Twitter to stay up to date with new releases and updates.
Changelog
Version 1.0.5 rev12046 – November 19, 2011
* New Feature: Added WordPress inspired jQuery UI Theme
Version 1.0.4 rev4637 – May 19, 2011
* New Feature: Added Black Tie jQuery UI Theme
Version 1.0.3 – May 18, 2011
* New Feature: Added Flick jQuery UI theme
Version 1.0.2 – April 9, 2011
Bug Fixed: Updated CSS for compatibility
Version 1.0.1 – January 22, 2011
* Fixed CSS error in some themes.
Version 1.0.0 – January 21, 2011
* First release