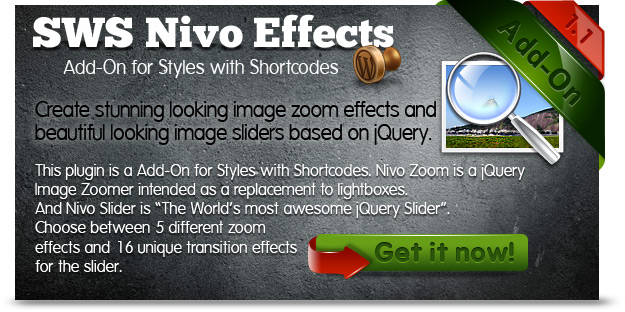 Tweet Styles with Shortcodes is a great plugin that makes life easier using WordPress whether you are a seasoned developer, designer or just a normal user!
We have created a Add-On plugin for Styles with Shortcodes, which makes it easier than ever to use the Nivo Image Zoom effects or Nivo Slider "The world's most awesome jQuery slider" on your WordPress powered website.
You can try the shortcodes your self.  We encourage to test it before you decide to buy it.
Simply use the following login details
Username: DemoUser
Password: TryMeNow
[eps-product id="147667"]
List of features
Nivo Zoom Shortcode
Nivo Slider Shortcode
Support and Updates
We support our plugins and have a professional support ticket system setup to handle and track all issues or requests from our customers. Follow us on Envato or Twitter to stay up to date with new releases and updates.
Change log
Version 1.1.0 rev5247 – June 3, 2011
* New Feature: Added 7 new unique transition effects to Nivo Slider
* New: Updated Nivo Slider library to version 2.5.2
When you have installed the update go to Shortcodes > Options > Bundles > Restore Bundle >
NIVO
and then "Click to restore bundle".
This will restore the NIVO bundle into Styles with Shortcodes (this way you will get the new updates).
Version 1.0.1 – February 3, 2011
* Fixed Bug center alignment for NIVO Zoom Shortcode
Version 1.0.0 – December 20, 2010
* First release
Screenshots