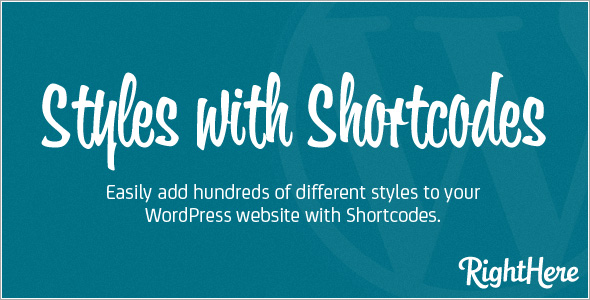 Have you ever been in the situation where you have a great looking WordPress theme, but you are missing some custom styling for different elements? Maybe you don't know PHP, CSS and Javascript and are not able to implement the cool feature you are missing.


Styles with Shortcodes is the solution for this problem. This plugin lets you customize content faster and easier than ever before by using Shortcodes. Choose from 100 built in Shortcodes like; jQuery Accordion, Tabs and Toogle, Tooltips, Column Shortcodes, Gallery and Image Shortcodes, Button Styles, Alert Box Styles, Pullquotes, Blockquotes, Twitter buttons, Retweet button, Facebook Like, Follow me on Twitter buttons, Linkedin, Google +1, Flattr  and many more!
You can even create your own shortcodes and share them with friends and other people who also uses the Styles with Shortcodes plugin. It has never been easier to add nice looking styling elements to your WordPress powered website without any knowledge of coding.
And if you do know HTML, PHP, CSS and Javascript you can create cool shortcodes and share them with others. You could also use the plugin for your clients website and then have them purchase additional shortcodes. The possibilities are endless!

You can try the all the shortcodes your self.  We encourage to test it before you decide to buy it.
Simply use the following login details
Username: DemoUser
Password: TryMeNow
List of features
Features
100 built in preset Shortcodes + 87 Shortcodes for everyone that register their plugin (FREE Downloadble Content)
New: Built-in Lightbox (Support for images and videos, 7 different themes, Animation from top or bottom. Set animation duration. Support for the following video formats: videopress.com, youtube.com, vimeo.com, megavideo.com, gametrailers.com, collegehumor.com, ustream.tv, twitvid.com, Vzaar.com)
New: Visual Columns
Get a quick overview of all shortcodes in the system
Create your own custom Shortcodes
Enter Shortcodes into different Categories
Enable or Disable "autop" settings in WordPress
Enable or Disable Shortcodes in Widgets
Add allowed external URL's for the build in thumbnail generator (Supports CDN)
Option to Restore Bundles
Shortcode Insert Tool: Choose between the standard "[ ] Add Shortcode" icon above the visual editor or Shortcode tool in a Metabox
Support for Custom Post Types (enable Shortcodes in individual custom post types)
Easy Import new Shortcodes
Easy Export Shortcodes
Uses WordThumb to automatically generate Thumbnails for Picture Frames.
Automatic Update Notification
Downloadable Content (Only users with valid License Key). Download Bundles with additional Shortcodes and free Add-ons.
Built in Shortcodes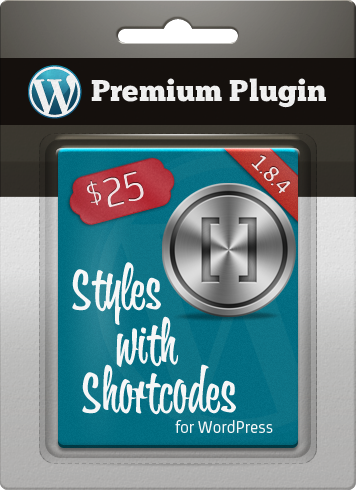 Changelog
Version 1.8.4 rev36187 – April 26, 2013
Update: Updated Lightbox Evolution library
Update: Added support for jQuery UI 1.9.2 themes
Update: Added option to preload resources in header. This is an attempt to provide support for Ajax loaded content
New Feature: Added auto update (enter your license key in the options panel and update your plugin from within wp-admin)
Version 1.8.3 rev32846 – January 20, 2013
Bug Fixed: Insert Shortcode Button not working on the dashboard quickpress
Bug Fixed: Restore the color picker as it used by some Shortcodes
Bug Fixed: In WordPress 3.5 when pressing enter inside a cell, a new cell was created, but this is not desired, so automatically make it behave as if pressing shit+enter so if forces a new line.
Bug Fixed: Renamed jquery.tools tooltip method to sws_tooltip to avoid conflict
Version 1.8.2 rev31276 – December 14, 2012
New Feature: Added Support for Shortcodes using Twitter Bootstrap 2.2.2
Update: Compatibility with WordPress 3.5
Update: Removed registered scripts that are not needed anymore
Update: Added jQuery UI 1.9.2
Update: Lightbox library for jQuery 1.8.3 support
Version 1.8.1 rev28592 – August 4, 2012
New Feature: Added Visual Columns (Fluid grid system, 12 responsive percent-based columns)
Update: Modified the Shortcode Insert Tool, so that it can work on pages with multiple
instances of the editor
Bug Fixed: Reorganize jQuery plugin to prevent Javascript error on some setups
When you have installed the update go to Shortcodes > Options > Bundles > Restore Bundle > Starter and then "Click to restore bundle".
This will restore the Starter bundle into Styles with Shortcodes (this way you will get the new updates).
If you added your own Shortcodes this procedure will NOT remove or overwrite them. However if you made changes to existing Shortcodes they will be overwritten.
Version 1.8.0 rev26108 – June 22, 2012
Update: Updated 'Column' Shortcodes to be fully responsive
Update: Updated 'Colored Boxes' Shortcodes to be fully responsive
Update: Updated 'Colored Boxes with Close' Shortcodes to be fully responsive
Update: Updated 'CSS Frames' Shortcodes to be fully responsive
Bug Fixed: Alignment issues with Social Media Shortcode
Bug Fixed: Increase the z-index of the classic-dark lightbox theme
Update: Add multisite path when looking for local images
Version 1.7.9 rev23212 – April 10, 2012
Update: Updated Thumbnail.php (TimThumb 2.8.10)
Bug Fixed: Prevent warnings related to registered scripts
Bug Fixed: Tables where not applying the table width correctly
Version 1.7.9 rev20920 – February 23, 2012
Update: Updated Thumbnail.php (TimThumb 2.8.9)
Version 1.7.8 rev15258 – January 6, 2012
Update: Thumbnail.php updated with TimThumb 2.8.5
Bug Fixed: Custom Post Type column not showing in WP 3.3
Bug Fixed: Broken Slider
Update: Imported bundle with column fixes
Update: Moved JS to init instead of plugins_loaded hook
Update: Added new icons for menu
Version 1.7.7 rev13259 – December 6, 2011
Bug Fixed: When adding panel items, sliders where not rendering with the correct min, max and step values
Bug Fixed: Jerky Chrome Nivo Slider animation
Bug Fixed: Missing Header breaks Chrome caching
Update: Thumbnail.php updated to TimThumb 2.8.3 and removed word thumb and old timthumb files
Version 1.7.6 rev11143 – October 20, 2011
New Feature: Added lightbox support for CSS Frames
Update: Increasing bottom padding on buttons
New Feature: Added resources for new Minimalistic Divider Bar Shortcodes
Version 1.7.5 rev10566 – October 5, 2011
Bug Fixed: Videos not loading in Lightbox. Force update of preloadify.js
Updated: Updated Lightbox to 1.5.3
New Feature: Added support for Lightbox on CSS Frames
Version 1.7.5 rev10020 – September 23, 2011
Bug Fixed: S icon dialog was hidden by some other plugin that is hiding HTML in the admin footer.
Bug Fixed: Hardcode fix, url encode the src field of TimThumb urls.
Improvement: Position the insert tool in the top of the viewport and not top of the page
Improvement: Option to always include admin sws scripts for plugins and themes that custom add Custom Post Content on screens
New Feature: Added 18 new Golden Ratio Picture frames.
New Feature: Added "align" and "width" parameter to the Twitter Follow Button Shortcode.
Version 1.7.4 rev7914 – August 11, 2011
Bug Fixed: update_post_meta does not behave the same when adding a new meta or updating and existing one in regard to slashes.
New Feature: added 15 new images for picture frame Shortcode
Version 1.7.3 rev7550 – August 5, 2011
Security Update: Disallow php from being executed on the TimThumb cache
New Feature: Replace TimThumb with WordThumb for increased security
Version 1.7.2 rev7110 – July 22, 2011
New Feature: Added custom capability that makes it possible to display the "S" icon on the editor or metabox for inserting Shortcodes
Bug Fixed: Compatibility problem with LightBox Plus (Colorbox) plugin, renamed enqueued script name.
Bug Fixed: Allow external images in picture frames
Update: Increased memory limit for image resizing. Also added a debugging timthumb for easier support.
Bug Fixed: Google Map fixes
Bug Fixed: Blue line in buttons on Firefox 5.0.1
Update: Updated Options Panel 1.0.3
Update: Lightbox jQuery script updated
Version 1.7.1 rev6153 – June 23, 2011
Bug Fixed: removed Options Panel php warning
Update: Updated Options Panel to 1.0.3
Update: Added alternative remote service procedure for sites not allowing fopen URL (this is for entering license key for free Downloadable Content)
Version 1.7.0 rev5630 – June 15, 2011
New Feature: Added Lightbox option to picture frames
New Feature: Added Lightbox support for video, updated picture frame Shortcodes to accept video URL.
New Feature: Social Networks Shortcode (Google +1 button support)
New Feature: Social Networks Shortcode (Twitter follow me button support)
New Feature: Social Networks Shortcode (LinkedIn button support)
New Feature: Social Networks Shortcode (Flattr button support)
New Feature: CSS Frames Shortcodes (3 pre-defined styles and 1 custom)
New Feature: URL Shortcode (Create custom underlined hyperlinks)
New Feature: Highlight Shortcode (custom highlight of text
New Feature: Downloadable Content (download Bundles of additional Shortcodes and add-ons)
Bug Fixed: Toogle not working on certain conditions (JavaScript error on line break conversion)
Bug Fixed: Updated the developer URL in API address.
Update: increased the TimThumb limit from 1000 px to 2000 px
Version 1.6.1 rev4542 – May 19, 2011
Bug Fixed: Shortcodes not loaded when a metadata gets duplicated for some reason
Bug Fixed: Toggle automatically closing when more than one version used.
Bug Fixed: sws_ul not showing in IE7.
New Feature: 11 New Picture Frames (Square) added
New Feature: 1 new Shortcode for displaying WordPress Shortcodes (4 different backgrounds)
New Feature: Button Shortcode updated with 30 colors schemes, glow feature and new X-large button
New Feature: Added Shortcode preview image on insert tool
New Feature: Option to show the Shortcode tool in a Metabox instead of the standard "S" icon above the visual editor.
New Feature: Option to enable SWS in Custom Post Types when using the metabox Shortcode insert tool.
New Feature: Added preview images for Picture Frame Shortcodes
Version 1.6.0 rev4005 – April 25, 2011
Bug Fixed: removed left indent on table Shortcode
Bug Fixed: Left, Center and Right align of buttons
Bug Fixed: Scrollable Gallery when combined with some overlays, the images are kept hidden.
Version 1.5.9 rev3509 – April 13, 2011
New Feature: Shortcode for URL insert custom underlined links
Update: Added ALT text support for Picture Frames Shortcode
Version 1.5.8 rev3035 – April 6, 2011
Bug Fixed: Syntax Highlighter do not apply WP filters to codes.
Bug Fixed: Tabs for IE7 (Javascript bug)
Version 1.5.7 rev2949 – April 4, 2011
Bug Fixed: reduce the number of queries done by the plugin.
Bug Fixed: / should not be replaced on any of the meta that is not the Shortcode code.
Bug Fixed: remove several notices displayed on sites with php notices on
Bug Fixed: prevent a warning that is displayed on sites where WP_DEBUG is set to true.
Update: Changed a function name in timthumb that is in conflict with another plugin.
Update: Added compatibility with Options Tree menu
Version 1.5.6 rev2634 – March 25, 2011
Update: Added support for integration into theme (this is a feature for Theme developers)
1.5.5 rev2399 – March 22, 2011
Bug Fixed: creating a Shortcode with a slash on the Shortcode code was breaking the the_content filter and not showing any content.
Bug Fixed: prevent a php warning that was breaking Shortcode saving on sites with php warning on
Bug Fixed: thumbs where not showing on sites with php warnings on
Update: Add temp directory used by thimthumb
1.5.4 rev2272 – March 13, 2011
Bug Fixed: fix Shortcode in widgets
Bug Fixed: prevent other plugins from hooking into Custom Post Types saved by SWS
Bug Fixed: conflict with OptionTree plugin
Bug Fixed: jQuery tools remove tabs plugin
Bug Fixed: plus image breaking on long titles in the toggle Shortcode
Bug Fixed: buttons Shortcodes
Version 1.5.2 rev1817 – February 24, 2011
Bug Fixed: broken Gallery Scrollable Basic
Bug Fixed: broken Gallery Scrollable with Preview
Version 1.5.2 rev1780 – February 23, 2011
Update: Added feature so the rtl (right-to-left) menu usage doesn't break. This is used in WordPress in Hebrew.
Version 1.5.2 rev1697 – February 14, 2011
Verion 1.5.2 – February 11, 2011
Update: Added support for using Shortcodes in Custom Dashboard Metaboxes (wp-admin)
Update: Added support for using Shortcodes in Widgets (can be disabled)
Bug Fixed: Fixed CSS for a few Shortcodes
Version 1.5.0 – December 19, 2010
New Feature: Added 24 new Shortcodes
Update: Improved the Shortcode creator tool; added more info to Shortcode list, added new field types, author info, bundle info
Update: Improved the Shortcode generator tool; added descriptions to fields
Update: Added option to recover original Shortcodes (bundles)
Update: Added loading of scripts and styles in a separate file, from an add-on
Update: Reorganized core, so all scripts and styles are only loaded when a Shortcode requires it.
Version 1.0.1 – November 30, 2010
Update: Added support for user Roles with Edit Post and Edit Page capabilities
Version 1.0.0 – November 27, 2010
Screenshots
Screenshots – Features for the very Tech-Savvy