Easy Translation Manager for WordPress
Since the launch of Easy Translation Manager for WordPress around one month ago we have received a lot of valuable feedback from our users, and we have been working on improving the performance and the features in the plugin.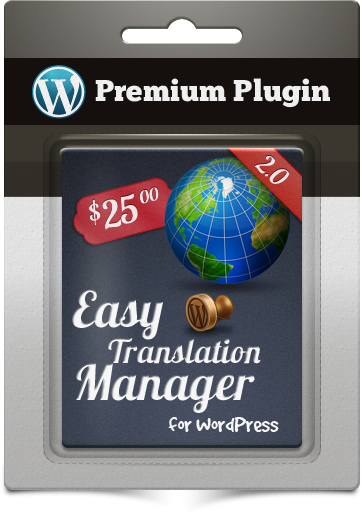 One user mentioned that it wasn't a smart move that we created tables for each sub-site if you use the plugin on a WordPress Multisite installation. Therefore a completely new database structure has been introduced. We have reduced the number of tables created from 7 to only 2. Versions prior to 2.0 created 7 tables on the main site and each sub-site if you used the plugin on a WordPress Multisite installation. Version 2.0 of Easy Translation Manager for WordPress only creates 2 tables on the main site and NO extra tables on the sub-sites.
Old tables
wp_etm_lang
wp_etm_menu
wp_etm_plugin_index
wp_etm_plugin_string
wp_etm_post
wp_etm_post_meta
wp_etm_post_terms 
New tables
wp_etm_plugin_index
wp_etm_plugin_string
When you instal the new version your data from the old tables will automatically be converted and added to the new tables. We will NOT delete the old tables just in case if something goes wrong, then you don't lose your translations.
Choose wp-admin language
We have added support for easily choosing the wp-admin language based on the WordPress .mo files. If you activate this feature you will get a Dashboard Metabox that shows the active languages. All you need to do it upload the .mo files and then you are good to go.
Support for SEO in Multiple Languages
Many users expressed concern about SEO when managing a WordPress website in multiple languages. Usually they can get the main language to rank well in search engines by using different SEO plugins, however most of them have limited support for SEO in different languages. We looked into finding a solution to this problem, and instead of building our own SEO system from scratch for Easy Translation Manager we decided to support WordPress SEO by Yoast. This is without doubt the most complete WordPress SEO plugin that exists today for WordPress.org users. It incorporates everything from a snippet preview and page analysis functionality that helps you optimize your pages content, images titles, meta descriptions and more to XML sitemaps, and loads of optimization options in between.
You need to install WordPress SEO by Yoast and then activate support for this plugin in the Options Panel. After installing the WordPress SEO plugin and activating support for this you will get a SEO button in each translation window. When you click this you will be able to add SEO information for each translation.
You can add SEO specific information for all Posts and Pages like: Focus Keywords, SEO Title and Meta Description. Easy Translation Manager will also automatically include all the language specific links in the sitemaps generated by the WordPress SEO. This will make optimization for each language much easier!
Take a peek on how Easy Translation Manager looks live and try for your self how easy it is to translate Pages, Posts, Custom Post Types, Post Tags, Post Categories and even Plugins and Themes.