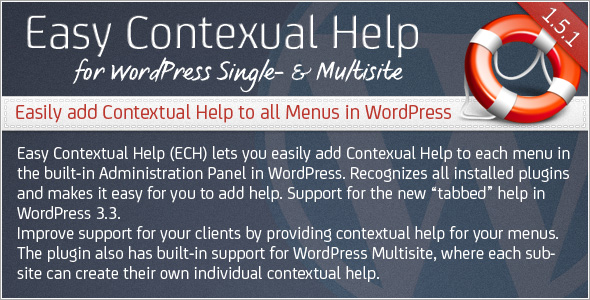 Are you a WordPress developer or a Web Designer who uses WordPress to develop websites for your clients?
Have you ever wished that there was an easy way to add your own help to each menu or plugin in the built-in Administration Panel in WordPress?
Look no further, with Easy Contextual Help for WordPress you can now improve support for your clients by providing contextual help for your menus.
The plugin automatically recognizes each installed plugin and makes it easy for you to add help. This used to be a tedious or rather complicated process to add help to each menu or plugin, but those times are over when you have Easy Contextual Help for WordPress.
Are you running a WordPress Multisite Network? If so then you can also use Easy Contextual Help as the plugin has built-in Multisite Support. Easily create global Contextual Help that is available for all sub-sites. You can also allow sub-site Administrators to create the own Contextual Help.
Take a peek on how Easy Contextual Help looks live and try for your self how easy it is to add Contextual Help to WordPress menus. Simply use the following details to login.
Username: DemoUser
Password: TryMeNow

[eps-product id="132014″]
List of features
Features
Replace existing Contextual Help from WordPress with your own help.
Add your own help to the already existing Contextual Help from WordPress
Display your help before or after the existing Contextual Help from WordPress
Based on WordPress Custom Post Type (allows you to use all features you normally use writing posts)
Use shortcodes directly in your Contextual Help. Compatible with our "Custom Widget Areas for WordPress". This lets you insert widgets directly in the Contextual Help. And compatible with Styles with Shortcodes.
WordPress Multisite Support
Create Global Contextual Help available to all sub-sites in the network
Optional allow sub-site Administrators to create their own Contextual Help
Provide access to the Easy Contextual Help menu by adding the Custom Capability easy_contextual_help.
Support for "tabbed" Contextual Help (WordPress 3.3.)
Branding
Create one help post and apply it to multiple menus or plugins. This feature can be used for branding the help section, by creating a post containing your logo or the clients logo. And then applying it to all menus or plugins.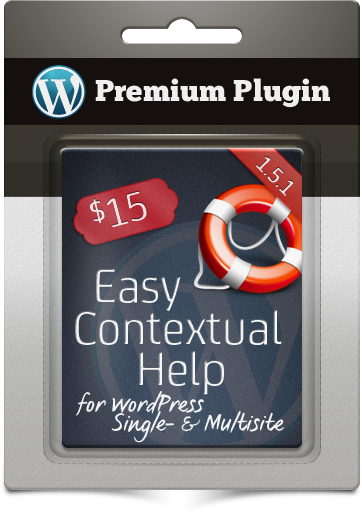 Screenshots
[complete_gallery id="81801″ class="aligncenter" style="margin-bottom: 25px;" ]
Changelog
Version 1.5.1 rev29694 – November 1, 2012
Bug Fixed: Plugin pages were not getting the Contextual Help set in WordPress 3.3. After updating you will need to set the availability for help again
Version 1.5.0 rev14105 – December 17, 2011
Updated: Added feature for handling WordPress 3.3 Contextual Help
New Feature: Added Custom Capability easy_contextual_help
Version 1.2.0 rev4114 – May 1, 2011
New Feature: Network Contextual Help. Available on WordPress Multisite for Super Admin User.
New Feature: Show Contextual Help on sub-sites
New Feature: Multisite option to disable Contextual Help on sub-site
Version 1.0.2 rev 3584 – April 15, 2011
Bug Fixed: help not displayed after a certain number of posts
Bug Fixed: Custom Contextual Help for Media Library was displaying the first image of the gallery
Bug Fixed: Prevent a crash when using wp-ecommerce plugin
Version 1.0.1 rev2804 – March 30, 2011
Added support for Comments area in wp-admin
Version 1.0 – October 21, 2010